Designer Discipline Interview- Luxurious, Designed Beauty with Luxe Face
Since the evolution of social media, varied in number are those who are self-appointed makeup artists. One quick search on YouTube, Instagram or Google will easily bring you a plethora of makeup tutorials to choose from. 
Taste vary, so while I am sure everyone is searching for tips to capture the glamour seen in print or on television, unfortunately many instead walk away from their self sessions with the line for an eyebrow look, the white stripe down the bridge of the nose in the name of contouring look, or the spider lash look. And yes, I am referring to those thick lashes that have you staring in awe at your check out girl but still managing a polite smile as not to offend.
So though individual designed style varies, I think it's safe to say there are  certain things that can be defined as an ultimate general "no, no," that we can all agree on. But what are they?
Celebrity make-up artist KiKi, of Luxe Face is here to share with us common makeup application mistakes made, aka "The Don'ts," and share with us her favorite make-up tips aka "The Dos." She will then conduct a makeup session focusing on a transitional spring to fall look. I'm sure you will find some useful tips you will be able to take note of to avoid a makeup faux pas. 
Designer Discipline (DD):  Welcome KiKi! I am so happy to have you here to share some tips with our Designer Discipline readers.
KiKi (KK): Thank you for having me! I'm excited to be here and talk about one of my favorite things – makeup!!
DD: Yes indeed. (Both laughing.) You know I am super excited. KiKi, please share with the Designer Discipline readers some information about your company Luxe Face and the services you provide?
KK: Luxe Face is the glamour division of my company Luxe Vie, LLC. Luxe Vie is a mobile fashion and beauty boutique. The company specializes in providing unique fashions, accessories, and makeup. Luxe Face provides makeup services for special events, custom lipsticks and glosses, as well as makeup classes.
DD: Oh wow, so if a brand discontinues my favorite color, you can recreate it?
KK: Exactly!
DD: Well after this let me pull out all my old tube favorites (laughter)!  Now KiKi do you agree, that in your observation, there are some major blunders being done out here in terms of makeup application?
KK: Absolutely!
DD: What are the most common mistakes you see people make?
KK: Wearing the wrong foundation color – especially for women of color.  It's really important to find the correct shade for your skin tone. Another mistake – fake lashes!  Ladies and gentlemen, please stop wearing these things that make you look like you are wearing  tarantula legs.
DD: Yes! What do you suggest to combat the tarantula look?
KK: Well first of all be sure to find a brand that is not necessarily the most expensive, but is of good quality and feel. Also ensure the lash strips are soft to the touch and natural looking when sized to your eye. You may have to do a bit of trial and error to see what works for you, but it will be worth it.  For your look today we'll be using Ardell's: Invisiband- Fairies.
DD: Sounds fab. I can't wait!  Now, let's discuss tool hygiene. I don't think people see the value in purchasing quality application tools and having the discipline to properly clean and care for them. What advice do you have?
KK: This is extremely important because of the oils and bacteria that will build up on your brushes. There are cleaning products from Sephora, MAC, Sonia Kashuk, etc. that will clean and disinfect your brushes very quickly. So, it's really good to use that type of product for your personal eye shadow brushes every day. For foundation and powder brushes, I suggest going about 2-3 days before a quick cleaning and a deep cleaning with baby shampoo should be done every 3-4 weeks. Now, if you're a makeup artist, you need to deep clean your brushes after each session, especially if you only have one set of brushes.

As far as purchasing makeup brushes, if you're a beginner or a "budgetnista," try e.l.f, Sonia Kashuk from Target, or Eco Tools. They're inexpensive but they get the job done!  Once you've mastered your technique, purchase some of the higher quality brushes.  I'm a huge fan of NARS, MAC, Sedona Lace and Morphe brushes.
DD: Well I am certainly a "budgetnista" as I absolutely live by a tight budget so I will be headed to Target this week (laughter).  Now KiKi, what areas do you think people can play around with the most with when it comes to makeup?
KK: Shawna, I would say the easiest thing is lipstick or glosses. You can wear a soft to a shocking pink. Once you've learned how to blend your shadows, you can experiment with bold colors like greens, blues, the smokey eye looks, etc.
DD: I know today you plan to show me and the readers how to achieve a smokey eye matched with a soft pink lip.
KK: Yes, I will show you how to play around with the smokey eye so many fear, and contrast it with a softer pink lip.
DD: I can't wait!
KK: Now, what do you think makes the most difference when going for a day look versus an evening look, when it comes to makeup application? Like, how can one transition a day look to an evening look?
DD: Good question. The most traditional answer is darker colors for nighttime by deepening the shadow colors and/or opting for a darker lip color. However, for me, it varies because makeup is art.  It depends on the mood and the outfit. For work, neutral or nude tones work well. If you're out after work for happy hour or a dinner date, then touch-up your concealer and mascara. Next, get rid of any shine on your face, throw on a red lipstick, and you're ready!
DD: So remember that everyone. Don't be at work looking like you are heading out for a night on the town – just transition your look. Now, what are some of your favorite brands?
KK: Kevin Aucoin's sensual enhancer (foundation/concealer), Makeup for Forever, NARS, NYX, L'Oreal, Black Opal, Sascha Cosmetics, MAC, Stila, and Urban Decay are just a few of my favorites for a variety of products.
DD: Awesome. Now I know we're going on a road trip to Ulta in preparation for our makeup session, and we'll be able to purchase some of those brands. I'm excited so let's go!
KiKi and I headed out on a sunny day, driving down the highway, music playing and happily chatting about all things fashion. After a quick stop at Starbucks for an iced coffee for her, and an iced chai tea for me, we arrived at Ulta, a beauty supply chain store, which she dubbed, "The Most Magical Place in The World."
We spent time up and down each aisle – with a rainbow of pigment swatches on our hand as we tested colors exclaiming a delighted, "Ooooh!" or a scrunchy faced shaking of the head, "Uhh nah!"  
We chatted with other patrons and laughed with the associates. Even out on our mission KiKi found herself offering makeup advice to others. When someone has a passion for something it never goes off the clock.
After about two hours we happily emerged from Ulta, with bags full of goodies prepared to get started with the makeup session.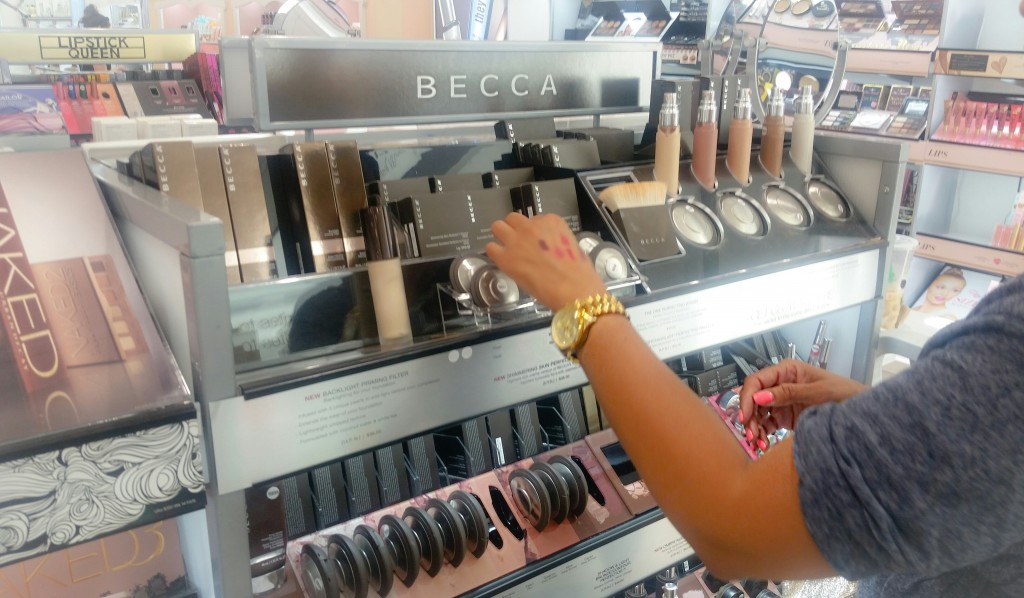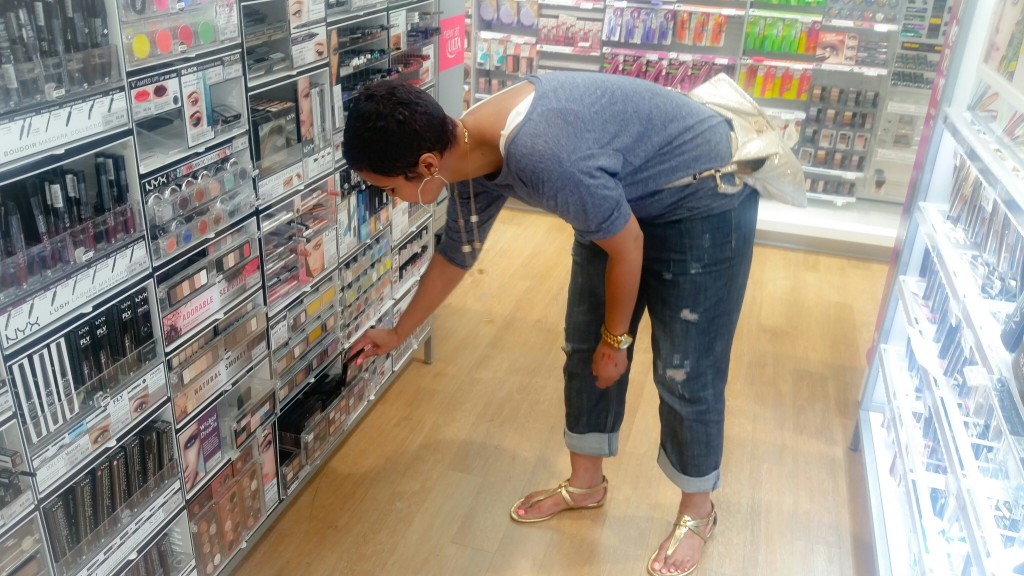 DD: Okay KiKi, now that I am luxuriously designed, let's talk more about what you did to achieve my look (batting my false lashes).
KK: Today my focus was to give you a transitional spring to fall look. So, of course we used moisturizer, and face primer first.
I then focused on the eyes. We wanted to achieve a smokey look, so first we used eye primer (NYX Eye Shadow Base) all over your eye lid. This allows the shadow to stay in place.
Then I used a transitional color which is actual a powder foundation (Urban Decay: Naked Skin ultra Definition Powder Foundation) on your eyes below the arch. I then used a dark blue hue on your eyelid, and black in your outer corner which I blended into the socket. Both hues came from a color palette (Runway Eyeshadow Glamour: Silver Moon). I then blended. Blending is key! I then applied lashes (Ardell's: Invisiband- Fairies), did a light upper liner (L'Oreal Lineur Intense) and applied liner to your water line (NYX Tres Jolie: Gel Pencil Liner), both in black. And there is your transitional, fall smokey eye!
DD: Wonderful. Now what did you do to complete the look?
KiKi: We went from your eyes to your foundation. We used a liquid foundation (Make Up For Ever: Mat Velvet), and a mix of two concealer colors to contour (NARS: Radiant Creamy Concealer). We used a blend of two colors because you've tanned a bit this summer so just using your normal concealer would be too light.
Then I simply set your foundation using a finishing powder (NYX Mineral Matte Finishing Powder), and applied a blush (Kinko Milano: Double Deco Blush). I finished you with a soft pink lip (NYX Soft Matte Lip Creme: Milan) and viola!
DD: Great! I look amazing if I do say so myself- but I still look like "ME," which is desired.
KK: Exactly! I call it the "Not So Basic Beat." For those who don't know, to "beat" a face means to apply flawless makeup.
DD: Thank you so much!  KiKi, how can our Designer Discipline readers reach you for a makeup consulting session and for more information about your company?
KK: You can email me at KiKi@Luxevie.com.
DD: Finally, can you please leave us with your beauty motto?
KK: Makeup is art. It should enhance your natural beauty.  However, blending is the key to make sure you're looking like a Mona Lisa instead of a Picasso.
DD: Thank you KiKi! I see why you call the makeup supply store the "Most Magical Place in the World," because you use your magic wand to enhance beauty skillfully and artfully!  Thank you so much for coming to share your tips with us!
KK: You are very welcome. Thank you for having me!

Designer Discipline focuses on wellness, fitness and fashion. As we have learned from KiKi today, you must apply discipline in fashion…and in this case, in the art of makeup application. You must have the discipline to take proper care of your skin…washing, cleansing, toning and treating problem areas. Also, you must maintain the discipline to properly clean your tools and care for your products as to not cause skin issues. So we definitely require an element of discipline in fashion and makeup. We will have more fashion and makeup tips on Designer Discipline in the future.
It was a pleasure to have KiKi share with us some useful information. I learned a lot and I hope you did too! Be sure to contact her for consultations and stay tuned for news about Luxe Face products.  
---
 Designer Discipline Luxe Face Interview Tips 
Foundation-

Take the time to find the right shade of foundation.

Tool Hygiene-

Use a cleaning solution product to quickly clean and disinfect your application brushes, and baby shampoo for a deep clean. Foundation and powder brushes should be cleaned every 2-3 days, while a deep cleaning should be performed every 3-4 weeks.

False Lashes-

Ensure lash strips are soft to the touch and natural looking when sized to your eye. Conduct trial and error to find what looks best on you.

Day/Night Transition-

During the day use neutral and nude tones. To transition that look into a night look, use darker colors to deepen the shadow colors and/or make the lip color darker (think of a red or a plum). Finally, touch-up concealer and mascara, and rid of any shine.
---
Designer Discipline Makeup Giveaway Contest
As a treat to the Designer Discipline website registrants, we are having a, "Designer Discipline Makeup Giveaway Contest."
If you like the look that KiKi did on me, you can achieve it! We are giving away the Runway Eyeshadow Glamour: Silver Moon color palette, and the NYX Soft Matte Lip Creme in Milan to help you achieve the smokey eye and soft pink lip look.
To enter you must:
Register or be registered, on the www.DesignerDiscipline.com website

Be following #DesignerDiscipline on Instagram

Send an email to Admin@DesignerDiscipline.com with the subject line "Designer Discipline Make-Up Giveaway Contest," and your Instagram name in the body.
Entry into the contest ends September 12, 2015. 
The winner will be randomly selected and announced via the Designer Discipline blog on September 13, 2015!